The greatest gift my parents passed on was a lived-out faith. I want to do the same for my daughter.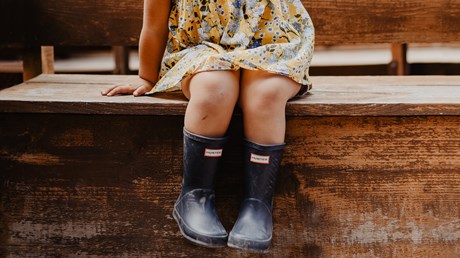 Before our daughter, Hildegaard, was born, my husband and I discussed the weight of raising a pastor's kid.
We wrestled with the fact that kids who grow up in ministry are often placed under extra scrutiny—and many end up bitter with the church, walking away from the Christian faith altogether.
I am a pastor's kid myself. I know firsthand the privilege it is to be steeped in the truth of the gospel and the rhythms of church life.
But I also know the constant, albeit unintended, pressure to look right even when you're not all right—to feign righteousness instead of being honest about your struggles and flaws. In the background, there was always that verse in 1 Timothy, the one about pastors being able to manage their families. My siblings and I knew that our actions could cost my dad his job.
Hilde will inevitably have similar experiences to untangle from growing up in the front row at church.
But one thing missing from the current conversation about the need to deconstruct and sort out our church baggage is the good of an evangelical upbringing—the good of being raised in the church, the privilege of having Christian parents, and the beauty of knowing the gospel before we could walk.
A few months back, I asked my Christian Twitter followers to share which aspects of their faith they want to repeat with their children. I received over a hundred replies, and many admitted that—although their own relationship with the church may currently be tenuous—they knew they wanted their children to experience Christian community, to have a grasp of Scripture, and to be able to talk honestly about grief, faith, and doubt.
What I noticed in their responses was that many …