The PCA has been a part of the NAE since the denomination's founding, but has always fought about it.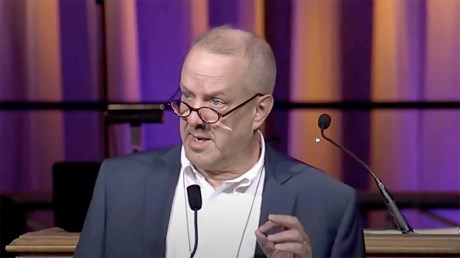 At its annual meeting on Wednesday, the Presbyterian Church in America voted to leave the National Association of Evangelicals (NAE), which it has been a part of since the denomination's founding in 1973.
Presbyterian elders voting for the breakup cited the NAE's increasing political advocacy, which sometimes conflicted with more conservative Presbyterian churches. Elders mentioned the NAE's advocacy on climate change, immigration, the death penalty, and COVID-19, among other issues.
Elders who wanted to remain with the NAE argued the groups had a historical bond and that in a culture increasingly hostile to Christianity, churches across denominations needed to work together on issues of common cause. The vote to leave was about 60 percent to 40 percent.
The NAE represents 39 denominations, from Free Methodist USA to the Foursquare Church, as well as nonprofits, schools, and individual congregations. It was founded in 1942 as a response to the mainline National Council of Churches and the fundamentalist Presbyterian Carl McIntire's American Council of Christian Churches. In representing evangelicals in various spheres, it issues statements on political issues, files Supreme Court briefs on church-related cases, and generally connects evangelical groups to work together.
The head of the NAE since 2020, Walter Kim, is a member of the PCA and a teacher-in-residence at Trinity Presbyterian Church in Charlottesville, Virginia. (He is also on CT's board.)
"It is a little awkward," said David Coffin, a PCA pastor who supported the measure to leave, about Kim leading the NAE. An NAE spokesperson said the group does not comment on denominational decisions.
Roy Taylor, …