After a polarizing presidential election in 2016, evangelicals rethink their discourse and engagement.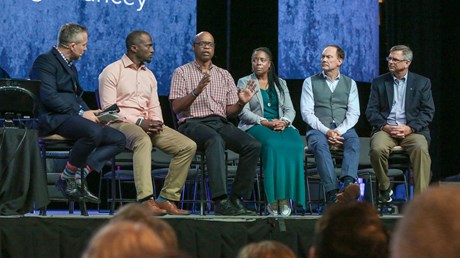 Unlike its tense annual meetings over the last few years, when partisan allegiances shook up the Southern Baptist Convention (SBC), leaders at this week's gathering offered broad encouragement to transcend political divides, while the messengers rallied together to condemn sexual abuse.
The abuse issue has offered Southern Baptists a common enemy, in contrast to some of the infighting that has surrounded President Donald Trump's election and presidency. Last year, the messengers debated over the decision to invite Vice President Mike Pence to speak, and the year before, controversy mounted over Ethics and Religious Liberty Commission president (ERLC) Russell Moore's position against Trump during the 2016 campaign.
The 2019 SBC annual meeting was themed "Gospel Above All," a line borrowed from president J. D. Greear about keeping secondary issues—including politics—from dividing them. "Political affiliations have a way of obscuring the gospel," he told the 8,000-person crowd at an arena in downtown Birmingham, Alabama, during his presidential address. "You're going to have to make a choice this election whether the gospel above all is a priority at your church or politics is."
Some Southern Baptists viewed Greear's approach, whether they liked it or not, as a sign of a political shift for the conservative denomination. (The SBC has hosted at its annual meeting the president and/or vice president from the past three Republican administrations, but not the Democratic ones. A motion came up last year to bar elected officials from speaking other than local leaders in the host city.)
It's a "new day in the SBC when a president makes a statement …
The following two tabs change content below.
Latest posts by Trumpet Media (see all)