Gathering at full-capacity is now listed among safe activities for people who have gotten the COVID-19 shot.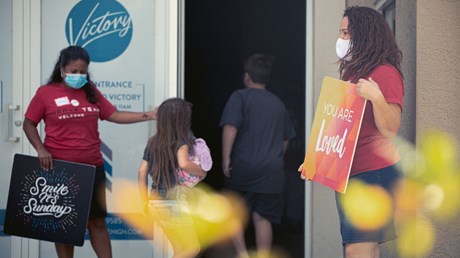 The director of the Centers for Disease Control and Prevention loosened the agency's social distancing recommendations this week, announcing that fully vaccinated people who wear masks can safely attend many indoor events such as worship services.
CDC Director Dr. Rochelle Walensky made the announcement Tuesday during a White House press briefing, where she outlined a number of indoor activities people who wear masks and have received vaccines against COVID-19 can participate in safely—including worship.
"As we gather more and more data on the real-world efficacy of vaccines, we know that masked, fully vaccinated people can safely attend worship services inside," she said.
Walensky also said that masked, fully vaccinated people can safely go to an indoor restaurant or bar, and "even participate in an indoor exercise class."
The CDC continues to recommend that fully vaccinated people use masks for indoor activities such as singing in an indoor chorus, going to a movie theater or eating indoors at a restaurant. As for outdoor activities, the CDC generally only recommends masks among fully vaccinated people if they plan on attending a crowded outdoor event such as a concert.
According to the CDC, people are considered fully vaccinated two weeks after they receive the second dose of the Moderna or Pfizer/BioNTech vaccines. They are also considered fully vaccinated two weeks after receiving the Johnson & Johnson vaccine, which only requires one dose.
"The examples shown today show that when you are vaccinated, you can return to many activities safely, and most of them outdoors and unmasked—and begin to get back to normal," Walensky said.
Officials were …
The following two tabs change content below.
Post by James Taiwo - author of [Bible Giants of Faith] [Bible Application Lessons] [Book of Prayer] [Christian Principle Guides] [Success Express Lane] & others. * Read devotions by category at www.BibleArena.org * Learn more about the author at www.JamesTaiwo.com
Latest posts by James Taiwo (see all)