Shane Claiborne and Michael Martin envision a future without firearms. Should believers rally to their cause?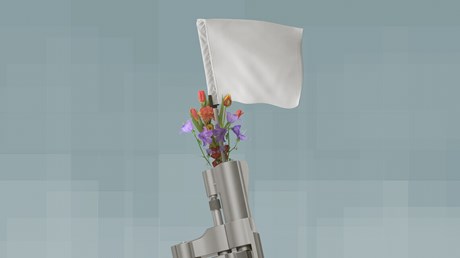 Someone, somewhere in America will be the victim of gun violence today. Mass shootings have become part of our routine national experience. What should be done with guns? That, essentially, is the question animating a new book from Shane Claiborne and Michael Martin, Beating Guns: Hope for People Who Are Weary of Violence.
Claiborne and Martin argue that that guns should be destroyed and refashioned. Their argument runs like this: Guns are violent, violence is antithetical to peace, and because Christians must be committed to peace, they should oppose guns. No Christian who cares about peace is energized for violence.
Many readers will be familiar with Claiborne's previous books on Christian nonviolence. He has been admirably consistent: Christians who take the teachings of Jesus seriously must forsake violence and pursue what makes for peace. In Claiborne's case, this has meant a recurring emphasis on aiding the poor, sheltering the homeless, and advocacy against capital punishment. Martin, for his part, is the founder and director of RAWtools, Inc., a nonprofit that turns guns into gardening tools. Together, they want to beat guns, figuratively and literally.
Surprising Statistics
Beating Guns offers a useful historical overview of gun markets in the US and an instructive statistical analysis of American gun violence. The book is at its strongest when accounting for the scale of firearm ownership and use in the United States. Many of Claiborne and Martin's findings are indeed quite alarming. Most people are aware, for example, that Americans own more guns and experience more gun violence than any other nation in the world. But did you know that Americans own half of all firearms globally, even though the …
The following two tabs change content below.
Latest posts by Trumpet Media (see all)